Product Search
Quickly find the product you need
Products List
Phone:0086-370-63838939
Email:sales@sunriserefr.com
Office Address: No.36 Fengchan Road Of Zhengzhou, Henan, China (Mainland)
Pros and cons of lightweight mullite bricks
Date:
2019-11-28 14:38
|
From:
Zhengzhou Sunrise Refractory
|
Author:
admin
The production process of sintered mullite products such as lightweight mullite bricks is similar to that of high-aluminum products. Synthetic mullite clinker is used as granular material, and fine powder is synthetic mullite clinker, or white corundum and quartz powder are mixed with pure clay to prepare a mixed fine powder equivalent to mullite.
The granules and fine powder are mixed in proportion, and the commonly used ratio is: 45% -55% of granules, 55% -45% of fine powder (<0.088mm). After uniform mixing, high pressure molding. The firing temperature is 1550-1600 degrees. When fused mullite clinker is used as granules, the firing temperature should be greater than 1700 degrees.
The ingredients can be determined according to the content of AL2O3 determined by the conditions of use. At present, the most common ingredients are: synthetic mullite (sintered or fused) and aggregate mullite fine powder: synthetic mullite (sintered (Or electrofusion) for the aggregate with synthetic mullite fine powder plus AL2O3 fine powder plus high purity clay powder;
Synthetic mullite (sintered or fused) and fused white alumina add aggregate mullite fine powder plus AL2O3 fine powder and high purity clay powder.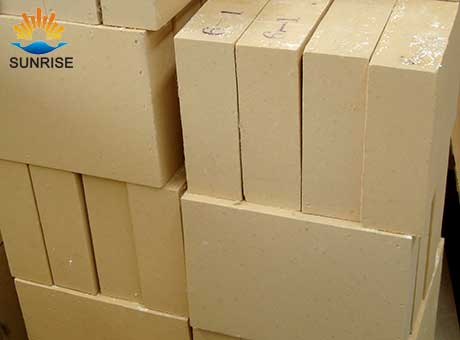 Light mullite brick has the following advantages when applied to the kiln: The mullite brick product has a low thermal expansion coefficient, high thermal conductivity, good thermal shock resistance, and high temperature strength. It does not soften under long-term use at high temperature, is not affected by any acid and alkali, has good salt resistance, and is not wet by metals and slag. It is lightweight and is a high-quality high-temperature resistant material.
The disadvantage is that it is easy to oxidize at high temperature, and it is not suitable to use in an oxidizing atmosphere. Mullite brick products are widely used in high temperature furnace linings (hearth, hearth, bottom of furnace body, etc.) and linings for smelting non-ferrous metal furnaces. Mullite brick products can be used as liners for reaction tanks and petrochemical autoclaves. It can also be made into crucibles for smelting copper, gold and light alloys.