Product Search
Quickly find the product you need
Products List
Phone:0086-370-63838939
Email:sales@sunriserefr.com
Office Address: No.36 Fengchan Road Of Zhengzhou, Henan, China (Mainland)
Private Order Hot Sale Light Mullite Insulating Brick in Sunrise Refractory
Date:
2019-12-04 16:35
|
From:
Zhengzhou Sunrise Refractory
|
Author:
admin
Kiln furniture large-sized lightweight mullite bricks are new type of mullite material formed by an advanced manufacturing process, which use of top-grade mullite grogs as raw materials, high quality alumina as additive to fit different use temperature.
There are many kinds of light insulating firebricks, we call the one with mullite as principal crystalline phase Mullite Insulating Firebrick. In the mineral composition, besides mullite, the ones with low Al2O3 content also contain a small quantity of glass phase and cristobalite, the ones with high Al2O3 content is with a small quantity of corundum.
The characteristics of this product include: high strength, low thermal conductivity, good heat preservation performance, small linear change on reheating, and excellent high temperature perfomance. Products containing a large number of closed pores, and a lightweight high temperature, good insulation properties, refiring small contraction, excellent thermal shock resistance, strong resistance to the corrosive gas and slag. Products can greatly improve the thermal efficiency of the kiln to shorten the production cycle, reduce the kiln body weight to achieve energy saving.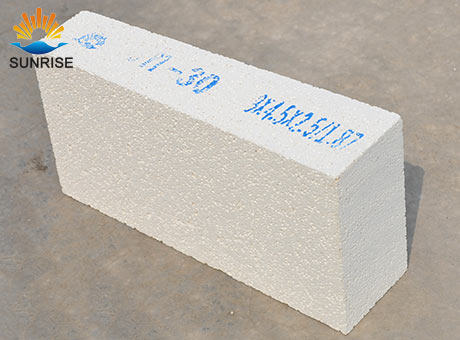 Light Mullite Insulating Brick can be directly used in the lining of high temperature kilns and furnaces. Light Weight Mullite Insulation Brick can be widely used as lining or insulation layers of various industrial furnaces and kilns in metallurgical industry, machine building industry, ceramic industry, chemical industry. Such as, shuttle kiln, roller hearth furnace, glass furnace, etc..
The standard specifications is 230 x 114 x 64 mm. Sunrise Refractory can accept custom-made order is also available to meet specific requirements. Welcome to receive to your order or e mail.