Product Search
Quickly find the product you need
Products List
Phone:0086-370-63838939
Email:sales@sunriserefr.com
Office Address: No.36 Fengchan Road Of Zhengzhou, Henan, China (Mainland)
The Use of Mullite Insulation Bricks
Date:
2018-12-24 16:37
|
From:
Zhengzhou Sunrise Refractory
|
Author:
admin
The mullite insulation brick produced by sunrise refractory material has the functions of high temperature resistance against thermal shock, cracking resistance and slag corrosion resistance. It is used in coke pulverized coal burning technology glass kiln, water glass kiln The upper layer lattice of the regenerative chamber with severe corrosion such as glass wool kiln can also be used for nozzle bricks.
Zirconium mullite brick is an arrangement structure that improves the mullite by introducing ZrO2 into the A12O3-SiO2 brick. It can improve the chemical corrosion resistance, thermal shock resistance and decrease the expansion coefficient of mullite. The stone bricks, commonly known as zirconium mullite bricks, are generally produced by electrofusion and are also produced by sintering. Sintered zirconium mullite brick is a special refractory material made of industrial alumina and zircon concentrate as raw materials and introduced into mullite matrix through reverberation sintering process.
The introduction of zirconia into mullite bricks, using phase transformation toughening of zirconia, can greatly improve the high temperature mechanical function of mullite data. Zirconium oxide promotes the sintering of mullite data. The participation of ZrO2 can accelerate the fine-grained sintering process of ZTM data because of the formation of low-melting materials and the formation of vacancies. When the mass fraction of ZrO2 is 30%, the relative theoretical density of the body fired at 1530 ° C reaches 98%, the strength reaches 378 MPa, and the resistance reaches 4.3 MPa.m 1/2.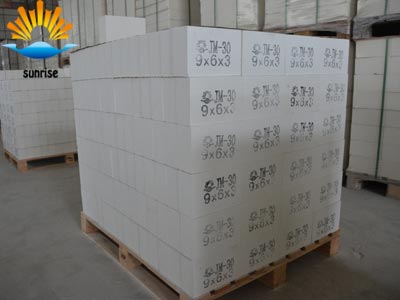 Studies have shown that when the participation amount of zircon is less than 54.7%, with the addition of zircon, the microstructure of the sintered sample gradually transitions from a network of columnar corundum to a network structure composed of columnar mullite. The high-temperature flexural strength (1400 ° C) of the sample also increases with the addition of zirconia content, exhibiting a larger value when the zirconia content is 23.7%, and then the strength decreases. The participation of zircon contributes to the progress of thermal shock resistance.
About the use of mullite bricks, I would like to introduce them here, I hope to help everyone. Sunrise refractory adhering to: customer first, the use of scientific management, strong technical force, perfect testing methods, new automated production process equipment, stable product quality is the guarantee of quality service. Zhengzhou Sunrise Refractory is looking forward to hearing from you.