Product Search
Quickly find the product you need
Products List
Phone:0086-370-63838939
Email:sales@sunriserefr.com
Office Address: No.36 Fengchan Road Of Zhengzhou, Henan, China (Mainland)
Manufacturing process of fire clay insulation bricks
Date:
2015-10-20 19:57
|
From:
Zhengzhou Sunrise Refractory
|
Author:
admin
Fire clay insulation brick
is a type of light weight insulation material containing 30-48% Al2O3. It is widely used as insulation materials in various industrial furnaces and kilns. It can effectively reduce the heat loss, improve the production efficiency and improve the operating environment.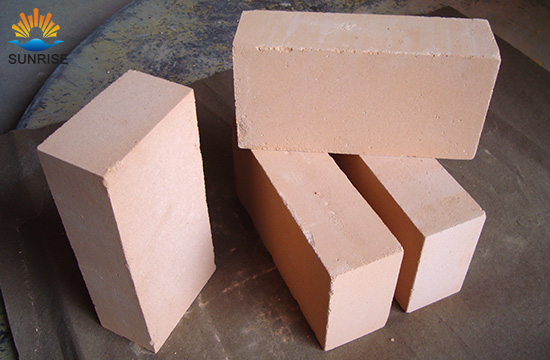 Fire clay brick is made by adding combustibles (sawdust, coke, charcoal or anthracite coal powder) or bubbles (rosin soap or soap) or gaseous products made of acid and alkali. These additives can produce even pores and increase the porosity of fire clay bricks.
After the raw materials and additives are mixed, add water and other liquids (syrup or sulfite pulp waste). After dry mixing and wet mixing, the mud is made into semifinished products. The semifinished products contain a big amount of water. It should be dried in the tunnel drier. The residual water content should be less than 10%. Finally the dry semifinished products are fired at 1250-1350℃.
Since fire clay brick has big shrinkage(9-15%) and the shrinkages are different in each direction, the brick has big deformation. The brick should be grounded before use.
It is yellow-brown and has low density and high porosity, so it has great insulation performance. However, it has bad stability, thermal shock resistance, slag resistance and strength. It can not be used in the linings in direct contact with a flame or molten slag.
Fire clay insulation brick mainly used for the insulating lining of hot surfaces or backing heat-insulating layers of other refractory materials. The refractory linings or heat-insulating materials of the industries, such as, ethylene pyrolysis furnaces, tubular furnaces, reforming furnaces of synthetic ammonia, gas generators and high-temperature shullte kilns,etc