Product Search
Quickly find the product you need
Products List
Phone:0086-370-63838939
Email:sales@sunriserefr.com
Office Address: No.36 Fengchan Road Of Zhengzhou, Henan, China (Mainland)
Sunrise Refractory Mullite Insulation Brick In Glass Furnace
Date:
2019-05-09 16:49
|
From:
Zhengzhou Sunrise Refractory
|
Author:
admin
Mullite insulation brick is a new type of refractory bricks in China, which can directly contact the flame, and has the characteristics of high temperature resistance, lightness, low thermal conductivity and remarkable energy saving effect. Mullite insulation bricks are high alumina refractories mainly made from good quality and pure raw materials. Mullite insulating fire brick is a kind of high alumina refractory materials mainly composed of mullite (3Al2O3·2SiO2). Generally, the Al2O3 content is between 65% and 75%. Besides mullite,there are also glass phase and christobalite as well as corundum which are good grade fillings. Mullite insulation bricks are widely used for lining in high temperature kilns such as shuttle kiln,roller kiln,glass kiln and petroleum kilns.
Our mullite insulating fire bricks has many advantages, such as:
1.Low thermal conductivity, good heat insulation.
2.Low thermal melting point. Lightweight mullite insulating bricks save heat and energy.
3.Low impurity content,high temperature resistance; higher alumina content ensures good performance.
4.Customized shapes to reduce bricks quantity and cost.
5.Dense,compact and accurate structure,low porosity rate.
6.High loading temperature,corrosion resistance.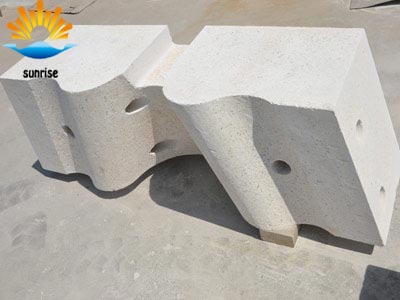 Due to its lightweight and good insulating performance,our mullite insulation bricks has broad use for fire resistance lining in heat side and insulating layers, thus increases energy efficiency greatly. Mullite lightweight bricks are popular in hot blast kiln crown,flame side and bottom parts; glass melting furnace regenerator,ceramic sintering kiln,Petroleum cracking system corners and linings,ethylene pyrolysis furnaces, tubular furnaces, reforming furnaces of synthetic ammonia, gas generators and high-temperature shullte kilns, etc.
The mullite insulation refractory brick also can be used in hot stove top, blast furnace body and furnace bottom, glass furnace regenerator, ceramic sintering kiln, oil cracking system dead angle lining,etc. Sunrise refractory sincerely hopes to have an opportunity cooperating with friends all over the world to achieve a win-win. Please email us for free quotation!