Product Search
Quickly find the product you need
Products List
Phone:0086-370-63838939
Email:sales@sunriserefr.com
Office Address: No.36 Fengchan Road Of Zhengzhou, Henan, China (Mainland)
Sunrise Refractory Mullite lightweight thermal insulation brick
Date:
2019-05-15 17:40
|
From:
Zhengzhou Sunrise Refractory
|
Author:
admin
Zirconium Mullite Brick Manufacturing process.
There are two processes for producing zircon mullite refractory bricks.

1.the reaction sintering is completed in the zirconium mullite fire bricks making process to obtain a complete phase change microstructure.
2. Zirconium mullite furnace brick is a combination of partial phase transitions to maintain non-equilibrium. Both production processes have their own characteristics and can produce excellent zirconium mullite bricks.
In industrial produce zirconium mullite bricks, in order to reduce costs, bauxite is often used instead of industrial alumina to produce zirconium containing mullite bricks.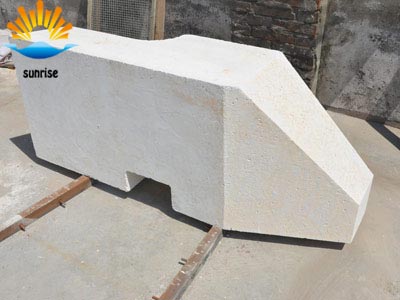 Zirconium Mullite Brick Classification.
1.Zirconium fire mullite made of industrial alumina and zircon.
Zirconium mullite bricks are prepared by reaction sintering using alumina and zircon bricks as raw materials. The process control is difficult due to the simultaneous reaction and sintering. Usually, zirconium fire mullite is first densified at 1450 ° C during firing, and then heated to 1600 ° C to carry out the reaction. ZrSio 4 is decomposed into Zro 2 and Sio 2 at more than 1535 ° C, wherein Sio 2 and AL 2 O 3 combine to form mullite bricks, When ZrSio4 decomposes Sio2 and Zro2, a part of the liquid phase appears, the decomposition of ZrSio4 can further fragment the particles, increasing the active surface and promoting sintering.
2.Zirconium fire mullite made of high alumina bauxite and zircon.
Made of high-quality high-alumina bauxite clinker and zircon bricks as raw materials to make mullite bricks with wear resistance and thermal shock resistance, the addition of zircon also improves the alkali resistance of high alumina materials. Zirconium mullite furnace brick have been used in cement rotary kiln and glass kiln.
3.Fused granules combined with zirconium mullite firebricks.
4.The bauxite and zircon bricks are made into a green body, after calcination, they are crushed to a certain particle size, and a mullite frit is obtained by electrofusion, and then a refractory material is produced
by a sintering method to prepare an electrofused particle. Combined zirconium mullite products. Zirconium mullite firebricks are used in heating furnaces, petroleum cracking furnaces, and glass kiln.

The fused silica AZS is used as the main raw material, combined with AZS composite binder and zircon sand. The AZS sintered brick has higher load softening temperature (1690 °C) and compressive strength (264 MPa). Low (4%), 1500 °C anti-sodium silicon calcium glass also has the ability to erode between fused AZS and fused mullite bricks, mullite refractory brick can be used in some kiln instead of fused AZS fused bricks.