Product Search
Quickly find the product you need
Products List
Phone:0086-370-63838939
Email:sales@sunriserefr.com
Office Address: No.36 Fengchan Road Of Zhengzhou, Henan, China (Mainland)
Do you know how to choice the suitable mullite bricks?
Date:
2018-12-28 16:45
|
From:
Zhengzhou Sunrise Refractory
|
Author:
admin
The mullite of Zhengzhou sunrise refractory is divided into two types: sintered mullite and fused mullite.
The sintered mullite has the characteristics of uniform expansion, excellent thermal shock stability, high load softening point, low temperature creep value, high hardness and good chemical corrosion resistance.
The quality of the fused mullite material is higher than that of the sintered mullite. The apparent porosity is lower than that of sintered mullite, which can prevent foreign substances from invading the inside of the material to a greater extent; the crystals are large and the grain boundaries are many, and the corrosion resistance, heat resistance and creep resistance are significantly improved. Widely used in environments with higher heat resistance requirements.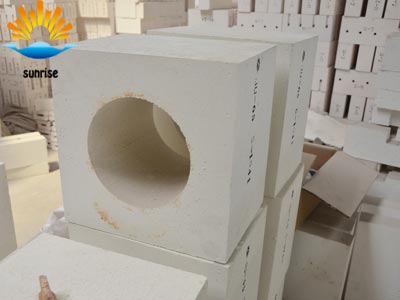 Then, many customers may be with these doubt: So, what kind of refractory brick is best? sintered mullite bricks? fused mullite bricks?
The fused mullite has higher purity than the sintered mullite, and the product has larger crystal grains, less defects, better volume stability, excellent creep resistance, high temperature mechanical properties and strong corrosion resistance.
The sintered mullite has small crystal grains and many defects, but the thermal shock resistance is superior, and the flexural strength is much larger than that of the fused mullite product. The sintered mullite has high strength and good wear resistance.
Both mulite bricks all have their own advantages, and also have some drawbacks. If you have any questions about mullite bricks or don't know how to choose the suitable mullite bricks, please email to me, we can according to your requirements customize the best mullite bricks for you.