Product Search
Quickly find the product you need
Products List
Phone:0086-370-63838939
Email:sales@sunriserefr.com
Office Address: No.36 Fengchan Road Of Zhengzhou, Henan, China (Mainland)
Classification and use of mullite insulation brick
Date:
2017-04-28 14:59
|
From:
Zhengzhou Sunrise Refractory
|
Author:
admin
The classification and use of mullite insulation brick:

It is divided into light and heavy mullite brick according to the density, according to the use of different temperature is divided into: 1350 mullite brick, 1450 mullite brick, 1550 mullite brick and so

on.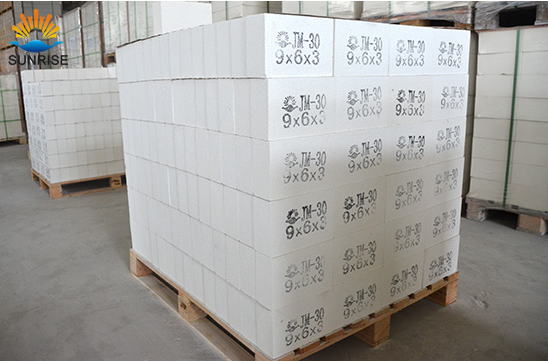 Refractoriness is higher, can reach up to 1790 ℃ or more. Load softening starting temperature is 1600 ~ 1700 ℃. Room temperature compressive strength is 70 ~ 260MPa. The thermal shock
resistance is good. There are sintered mullite brick and fused mullite brick. Sintered mullite brick is high bauxite clinker as the main raw material, adding a small amount of clay or bauxite as a
binder, made by molding, sintering.
Fused mullite brick is bauxite, industrial alumina and refractory clay as raw materials, adding charcoal or coke fine particles as a reducing agent, after forming, use reduction fused method to

manufacture. The crystallization of the fused mullite is greater than that of the sintered mullite, and the thermal shock resistance is better than that of the sintered product. Their high temperature

performance mainly depends on the alumina content and the homogeneity of the mullite phase with the glass distribution.
Mainly used for hot stove roof, blast furnace and the bottom of the furnace, glass furnace regenerator, ceramic sintering kiln, oil cracking system dead angle lining.