Product Search
Quickly find the product you need
Products List
Phone:0086-370-63838939
Email:sales@sunriserefr.com
Office Address: No.36 Fengchan Road Of Zhengzhou, Henan, China (Mainland)
Sunrise Refractory Will Be Exhibiting At The China Glass Expo 2016
Date:
2016-03-31 15:38
|
From:
Zhengzhou Sunrise Refractory
|
Author:
admin
The China Glass 2016 will be held at Shanghai New International Expo Centre (SNIEC), China during April 11-14, 2016. We Sunrise Refractory will attend this top glass expo and present our refractory products for the glass furnace at Booth 306, Hall W3.
Venue: Shanghai New International Expo Centre (SNIEC)
Address: 2345 Longyang Road, Pudong New Area Shanghai, China
Date: April 11 – 14, 2016
Hall NO.: W3
Booth NO.: 306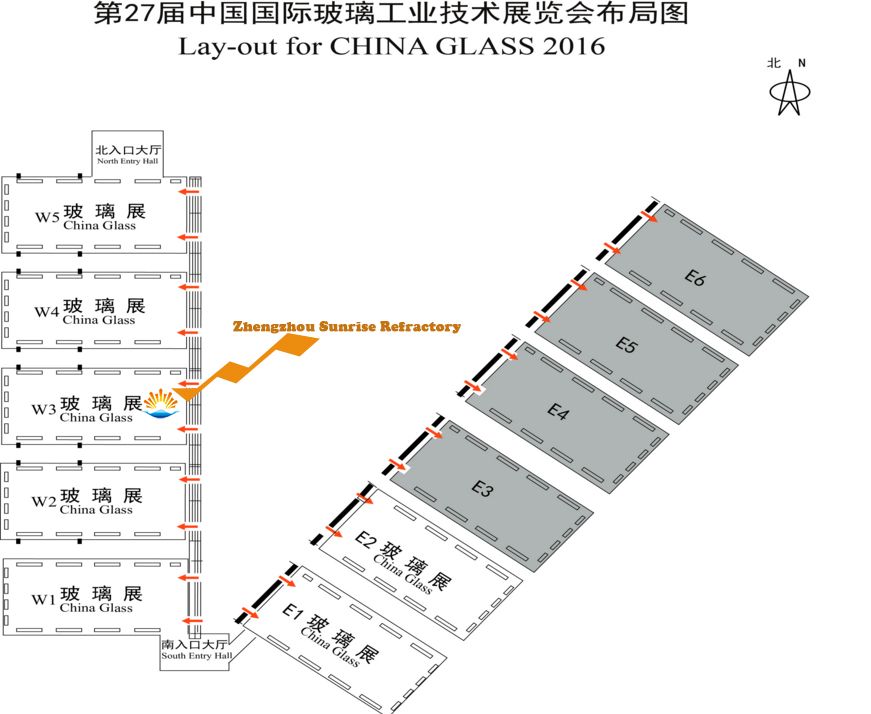 Zhengzhou Sunrise Refractory Co., Ltd. is a refractory supplier from Zhengzhou, China. We provide various refractroy products for the glass furnaces, including fused cast AZS 33#,36#,41#, glass furnace fireclay bottom block, mullite brick, zircon brick, alumina bubble brick, sillimanite brick, corundum brick, low porosity fireclay brick, high alumina brick, all kinds of glass furnace ramming masses, sealing materials, building fireclay, etc.
China Glass 2016 is the 27th event since it was launched in 1986. For 30 years of development and improvement, China Glass has becomes one of 2 the largest events in global glass and is well known as same as Glasstec for strong speciality, high- degree internationalization and the largest exhibiting area in Asia. China Glass is the best platform to demonstrate the newest technology, equipment and products of glass industry.
During April 11 – 14, 2016, we are looking forward to meeting you at Booth 306, Hall W3, at the 27th China Glass Expo 2016.