Product Search
Quickly find the product you need
Products List
Phone:0086-370-63838939
Email:sales@sunriserefr.com
Office Address: No.36 Fengchan Road Of Zhengzhou, Henan, China (Mainland)
Additives for the Production of Mullite Insulation Brick
Date:
2016-05-18 09:48
|
From:
Zhengzhou Sunrise Refractory
|
Author:
admin
Mullite insulation brick
is a lightweight refractory brick with a bulk density of no more than 1.3g/cm3. Because of their low thermal conductivity and good energy saving effect, it can be used as furnace lining in direct contact with flame.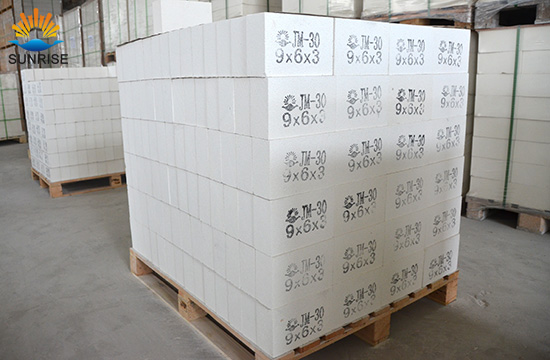 Usually mullite insulation bricks can be used in the furnace lining with a maximum operating temperature under 1550℃. Besides the ingredients and firing, the final product dimensions are mainly guaranteed by the regular semi-finished mechanical pressing.
The additive is a composite additive made of a variety of refractory materials. It can promote the reaction and play a very good role in stabilizing the volume of the brick at each stage of firing. It can prompt the physical chemical reaction to produce mullite phase.
2)
Ignition loss substance
Ignition loss substances used are polystyrene beads and wood powder. Polystyrene beads are hydrocarbons. After burned, large spherical pores with smooth inner face and firm and strong pore walls can be formed in the brick. However, the beads are easy to reunite, so it is not conducive to improving the strength of bricks.
The molding method of mullite insulation bricks is wet plastic molding. The mud has high water content. During the drying process, the green body has large shrinkage and uneven shrinkage will cause cracks. The water reducer can greatly recue the water amount of water added and avoid the above-mentioned problems.