Product Search
Quickly find the product you need
Products List
Phone:0086-370-63838939
Email:sales@sunriserefr.com
Office Address: No.36 Fengchan Road Of Zhengzhou, Henan, China (Mainland)
Wet Laying Of Insulation Bricks
Date:
2016-05-18 10:00
|
From:
Zhengzhou Sunrise Refractory
|
Author:
admin
The wet laying of insulation bricks includes mortar preparation, inspection, cutting and processing of insulation bricks and laying.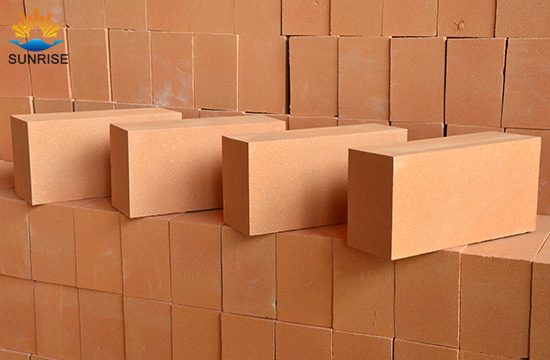 When the mortar is finished fire clay or diatomaceous earth powder combined with clay mortar, it should be mechanically stirred and the stirring time should be less than 5min. the consistency of mortar is controlled by the amount of water.
If mechanical stirring is unavailable, soaking can also be used. Soak the mortar materials in water for not less than 24 hours. Stir after removing the excess water.
Before the construction, inspect the contact surface between diatomite insulation bricks and the shell of furnaces.
When constructing heavy wall, inspect whether the previous refractory masonry meets the quality requirements and the accessories is installed correctly.
3)
Cutting and processing of insulation bricks
Staggered joint bricks and other processed bricks should be cut with a hand saw or hacksaw. Avoid using brick knives.
When insulation bricks are batch processed, it is better to control it with templates and line with a saw blade or steel needle.
In order to improve the precision of processing, the processing line between the bricks and shaped steel components should be determined by the imprinting method.
The laying order of insulating bricks and the height of the masonry should be determined according to the structure.
Insulating bricks and lightweight bricks should be stretcher bonded.
Insulating bricks can be made level with thick mortar. When there are local tolerances or obstacles by embedded parts or special-shaped brick, they can be made level by processed bricks.
When constructing, flat joints can be constructed by laying ash and vertical joints can be constructed by the knife ash method.
Expansion joints should not be reserved in the masonry. But when the moveable ends of the other devices and components with a high expansion coefficient are facing the bricks, replace the insulation bricks with ceramic fiber products or other flexible insulation material.
When expansion joints, especially straight expansion joints, are facing the masonry, the insulation bricks must be replaced with refractory bricks. The expansion joints can be covered with a layer of standard refractory bricks laid on flat or end.