Product Search
Quickly find the product you need
Products List
Phone:0086-370-63838939
Email:sales@sunriserefr.com
Office Address: No.36 Fengchan Road Of Zhengzhou, Henan, China (Mainland)
What are the Advantages of The Insulation Bricks Exported by Sunrise Refractory Group?
Date:
2019-08-31 10:15
|
From:
Zhengzhou Sunrise Refractory
|
Author:
admin
In today's society, people are becoming more and more aware of environmental protection. The application of refractory bricks in kiln is more and more extensive. Do you know the advantages of insulation bricks? Today, Sunrise Refractory Company will take you to understand the advantages of Sunrise refractory steel insulation bricks.
1. Fire safety and flame retardancy: The material used for thermal insulation bricks is made of expanded perlite, heat-resistant adhesive, mainly inorganic inflammable raw materials, and then made by scientific research secrets and excellent production techniques, in line with actual national fire prevention. A1 grade flame retardant grade performance index required for safety building decoration materials supervision and testing, fireproof material high temperature about 1100 °C.
2, excellent thermal insulation and thermal insulation of perlite materials, the heat transfer coefficient of 0.0519, greatly better than the national requirements of 0.07 performance indicators, with very very good thermal insulation properties, is the home furnishing interior decoration manufacturing industry preferred New protective decoration partition insulation insulation noise reduction insulation material.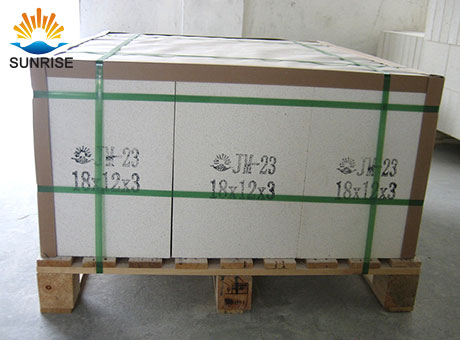 3, non-toxic environmental protection perlite insulation bricks because of the selection of materials said secret scientific research, without all hydrogen indoor formaldehyde and other endotoxin release and evaporation, in line with the actual national fire safety construction and decoration materials regulatory testing requirements of smoke and toxic side effects safety level (AQ1 The technical standard is an idealized home furnishing house decoration partition wall wall health and safety insulation material.
4, water-repellent waterproof high-quality perlite thermal insulation bricks do not use traditional magnesium oxide magnesium chloride magnesia and other halogen chemicals and outdated processing technology, not easy to rust metal materials and wood, and has a good moisture-proof Water performance and water resistance.
5, the brick size is moderately sized, can be lightly constructed, and the wall is stable; the volume is twice that of the 85-stick tile, and the net weight is only 1/4 of the clay brick.