Product Search
Quickly find the product you need
Products List
Phone:0086-370-63838939
Email:sales@sunriserefr.com
Office Address: No.36 Fengchan Road Of Zhengzhou, Henan, China (Mainland)
The Leading Producer of High Quality Mullite Insulating Bricks -- Sunrise Refractory
Date:
2019-06-25 16:23
|
From:
Zhengzhou Sunrise Refractory
|
Author:
admin
Sunrise Refractory Kiln furniture large-sized lightweight mullite bricks are new type of mullite material formed by an advanced manufacturing process, which use of top-grade mullite grogs as raw materials, high quality alumina as additive to fit different use temperature.
Using high pure mullite as raw refractory material, is made by adding alumina powder according to different type and then sintering in high temperature. Sunrise Refractory mullite insulating brick is the new energy saving material for insulation.
Purchase Sunrise Refractory mullite insulating brick advantages as below:
1. Low thermal conductivity, with good thermal insulation effect;
2. Low heat capacity, due to low thermal conductivity, mullite lightweight insulation brick accumulate little heat energy, and shows obvious energy saving effect in intermittent operation;
3. Low impurity content, with very low content of iron and alkali metal oxide, our mullite insulation brick is characterized with high refractory performance; higher aluminum content enables our product remains good performance in the reducing atmosphere;
4. High compressive strength under high temperature;
5. Accurate appearance size speeds up the bricks laying, saves the use of refractory mortar and also ensures the strength and stability of brickwork and extend the life of the furnace lining;
6. Can be processed into a special shape, in order to reduce the number of bricks and joints.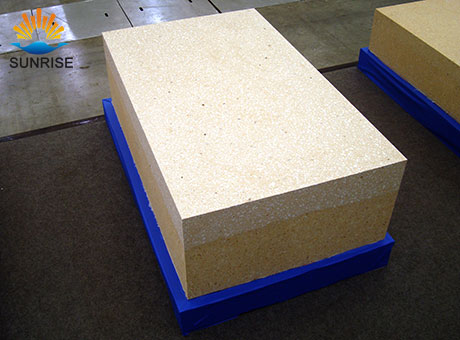 Sunrise Refractory is a leading producer of high quality mullite insulation bricks. Our main aim is to ensure that our customers utilize the most advanced innovations available when it comes to mullite insulation bricks. We offer a range of mullite insulation bricks that suit your specialized needs with a focus on health and safety.