Product Search
Quickly find the product you need
Products List
Phone:0086-370-63838939
Email:sales@sunriserefr.com
Office Address: No.36 Fengchan Road Of Zhengzhou, Henan, China (Mainland)
Do You Know This Knowledge of Sunrise Refractory High Temperature Mullite Bricks?
Date:
2019-04-22 10:11
|
From:
Zhengzhou Sunrise Refractory
|
Author:
admin
High-temperature mullite brick is a refractory material made of synthetic mullite as the main raw material and mullite as the main crystalline phase. The bricks have an Al2O3 content of 48% to 90%. When the Al2O3 content in the brick is lower than the theoretical composition of mullite, it also contains a small amount of glass phase and cristobalite.
When the Al2O3 content in the brick is higher than the theoretical composition of mullite, it also contains the corundum phase. Therefore, according to the composition of the crystal phase in the brick and its content can also be divided into: low mullite, mullite, mullite-corundum and corundum-mullite refractory brick. The price of mullite bricks is higher than that of high alumina bricks and clay bricks.
The nature of high temperature mullite bricks is primarily determined by the nature of the mullite. It has high refractoriness, high load softening temperature, low temperature creep rate, excellent thermal shock resistance, slag corrosion resistance, high shear modulus and so on. High-temperature mullite bricks are widely used, mainly for high-temperature hot blast stoves, large blast furnace hearths and furnace bottoms, steel-making electric furnace tops, ceramic industrial kiln linings, kiln furniture, and glass kiln cement kiln linings.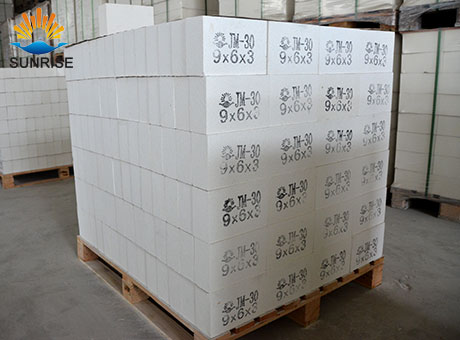 Mullite is a high-quality refractory raw material, and this type of mineral is rare. Mullite is a mineral produced by aluminosilicates at high temperatures, and mullite is formed when artificially heating aluminosilicates. Natural mullite crystals are elongated needle-like and radiate clusters. The mullite mine is used to produce high temperature refractories. It is widely used as a thermal barrier coating in C/C composites and is widely used. The only stable binary solid solution under normal pressure in the mullite AI203-SI02 element system. The chemical formula is 3AI203-2SI02. Natural mullite is very rare, usually synthesized by sintering or capacitance method. Chemical formula AlxSi2-xO5.5-0.5x density; 3.16g/cm3 Mo hardness; 6-7 refractoriness: Stable at 1800 °C, 1810C decomposition into corundum and liquid phase.
Zhengzhou Sunrise Refractory Co., Ltd. has been producing and selling refractory materials for many years. Our years of experience have made us more professional. If you have any demand or doubt about high temperature mullite bricks, please call Sunrise Refractory Co., Ltd., our company will be yours. Provide quality refractory materials and intimate service.