Product Search
Quickly find the product you need
Products List
Phone:0086-370-63838939
Email:sales@sunriserefr.com
Office Address: No.36 Fengchan Road Of Zhengzhou, Henan, China (Mainland)
Hot sale mullite lightweight insulation bricks in sunrise refractory
Date:
2019-03-28 17:08
|
From:
Zhengzhou Sunrise Refractory
|
Author:
admin
Due to the excellent thermal insulation effect of mullite lightweight bricks, the refractory thickness of the kiln can be made thinner. Therefore, the thermal conductivity of our mullite insulation bricks is very low. The mullite insulation brick of sunrise refractory material also has the advantage of high thermal strength. In addition, due to the low thermal conductivity of mullite lightweight bricks, less heat storage and energy saving effect, mullite insulation bricks also have the characteristics of low heat capacity.
Zhengzhou sunrise refractory mullite insulation brick iron content is very low. The low-melting content of iron and alkali metals is very low, and the mullite lightweight brick products have stable thermal properties and high temperature resistance.
In addition, sunrise refractory mullite insulation bricks have these advantages:
High purity and low impurity content
Excellent high temperature strength
Good thermal shock resistance
Low expansion conductivity
Great resistance to acid and alkali erosion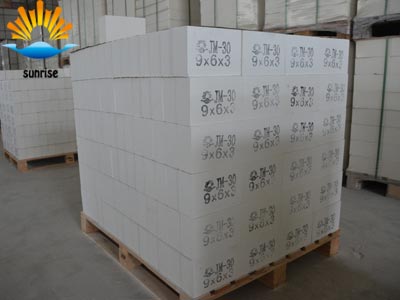 The mullite lightweight bricks produced by the company are mainly used in the ceramic industry, glass industry, steel industry, petrochemical industry, aluminum industry and other fields. Zhengzhou sunrise refractory can provide a variety of mullite bricks and can be customized according to customer needs. If you are very interested in our mullite insulation bricks, please call us or contact us by email, we will give you a quote at the first time.