Product Search
Quickly find the product you need
Products List
Phone:0086-370-63838939
Email:sales@sunriserefr.com
Office Address: No.36 Fengchan Road Of Zhengzhou, Henan, China (Mainland)
Do you know the advantages of our dcorundum mullite brick?
Date:
2019-02-25 17:00
|
From:
Zhengzhou Sunrise Refractory
|
Author:
admin
Mullite is an excellent refractory material, which has the characteristics of uniform expansion, excellent thermal shock stability, high load softening point, low temperature creep value, high hardness and good chemical corrosion resistance. Pure electric fused mullite, ordinary fused mullite, all natural bauxite concentrate sintered mullite and light burned mullite. Lightweight mullite aggregates can be quickly oven-fired, and the exhaust gas is smoothly discharged at high altitudes, reducing the time of the oven and improving economic efficiency. The processing temperature is high, and it can be directly contacted with the flame working lining to complete the high temperature and energy saving. Low thermal conductivity, good heat preservation, special lightweight mullite aggregate, stable volume, high strength and good air tightness. The structural component is reduced by 40--60%, which reduces the problem of the top hanging bricks.
Sintered mullite is used to produce high temperature refractories. Mullite has only a stable binary compound under normal pressure. Natural mullite is very rare, and it is usually synthesized by sintering or electrofusion.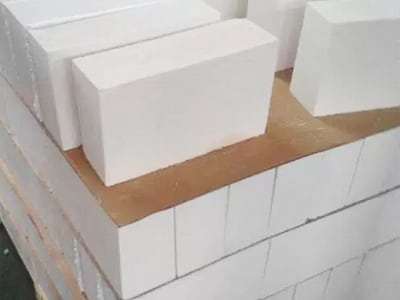 The refractory bricks made of sintered or fused mullite as the main material can be all made of mullite, some mullite can be used, and some are corundum. The former is called mullite refractory brick, the latter is called corundum-mullite refractory brick or corundum mullite brick. The production process of mullite refractory bricks is the same as that of high-alumina bricks. The ingredients are mixed, shaped, dried and fired. The firing temperature is related to the composition of the ingredients, the purity of the materials, and the requirements for the function of the refractory bricks, and is generally 1500 to 1700 °C.
Mullite refractory bricks and corundum mullite bricks have the advantages of high load softening temperature, low temperature creep rate and good thermal shock resistance. They are widely used in blast furnace hot blast stoves, glass melting furnaces, coke quenching and heating furnaces. On the kiln. The mullite refractory bricks are simply corroded by alkaline refractory bricks at high temperatures. In addition, at high temperatures, mullite can be damaged by the formation of Al2O3 in response to water vapor.