Product Search
Quickly find the product you need
Products List
Phone:0086-370-63838939
Email:sales@sunriserefr.com
Office Address: No.36 Fengchan Road Of Zhengzhou, Henan, China (Mainland)
Analyze the Properties of Sintered Mullite Bricks
Date:
2019-12-17 16:13
|
From:
Zhengzhou Sunrise Refractory
|
Author:
admin
The sintered mullite brick has high mechanical strength and load deformation temperature, high density, small porosity, and high crystalline phase content. There is no abnormal phenomenon on the thermal expansion curve. However, when such materials are in contact with a large amount of alkaline materials at high temperatures, mullite is unstable and easily decomposed, which reduces the stability of such refractory materials to a certain extent. In addition, the final properties of fused mullite bricks produced from fused mullite raw materials of different purity will be different; even fused mullite of the same chemical purity (such as high-purity products), because of its different fused technology The obtained refractory bricks also have different properties.
Generally speaking, the high temperature flexural strength of sintered mullite bricks is much higher than that of fused mullite bricks. This is due to the staggered existence of some small but well-developed crystal networks in the former structure. The latter, because of its larger crystals, has good volume stability and excellent creep resistance. Moreover, fused mullite bricks have better erosion resistance than sintered mullite bricks of the same composition. This is because mullite will generate corundum and nephrite liquid phase when it is attacked by alkaline substances at high temperature. The nepheline liquid phase has low viscosity and is easy to lose, causing brick damage. Due to the relatively high porosity of sintered mullite, the above reaction can be carried out inside the brick body, and the destructive force is much larger; while the fused mullite brick has a high density, the above reaction can only be performed on the surface of the refractory brick, and the damage The force is relatively weak.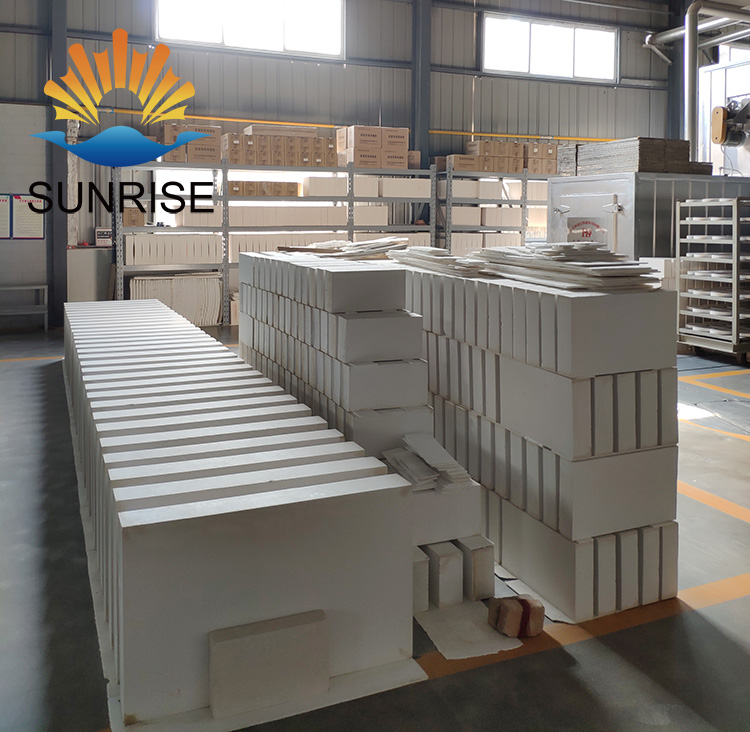 Although the price of mullite bricks is much higher than that of high-alumina bricks, its superior performance determines its widespread use. The properties of mullite refractory bricks are mainly determined by the properties of mullite. It has high fire resistance, high load softening temperature, low high temperature creep rate, excellent thermal shock resistance, slag erosion resistance, high shear modulus, etc. Mullite refractory bricks are widely used, mainly used in high temperature hot blast stoves, large blast furnace hearths and furnace bottoms, steel furnace electric furnace tops, ceramic industrial furnace linings, kiln furniture, and glass kiln and cement kiln linings.