Product Search
Quickly find the product you need
Products List
Phone:0086-370-63838939
Email:sales@sunriserefr.com
Office Address: No.36 Fengchan Road Of Zhengzhou, Henan, China (Mainland)
What are the production processes and requirements for refractory castables?
Date:
2019-07-18 15:52
|
From:
Zhengzhou Sunrise Refractory
|
Author:
admin
Refractory castables account for 80% of unshaped refractory materials. There are many manufacturers of refractory castables in China. High-quality refractory castables have a wide range of applications and can be applied to many high-temperature industrial furnaces and various industries. The importance of the material as a lining for high temperature furnace casting is clear.
The refractory castables have slightly different application environments and construction methods, and the construction specifications of the cast linings are also different. The refractory castable materials used are also different. For example, some kiln furnaces are suitable for refractory castables with better thermal shock resistance. When producing refractory castables, it is necessary to add some refractory materials with good thermal shock resistance. If some require good activity and good wear resistance, it is necessary to add good castability and wear resistance when producing castables. Good refractory material. The production process of refractory castables has certain relationship with the production equipment and production process. When producing refractory castables, the first is the preparation of materials, such as refractory aggregates, refractory powders, additives and other materials; secondly, the refractory materials According to the formula share, according to the share of the mixture, and finally the packaging, the mixed refractory material is packaged.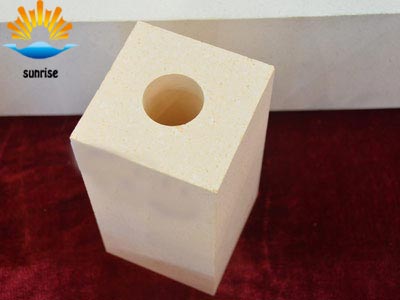 In the process of producing refractory castables, the refractory aggregates must be strictly controlled in size. If the refractory aggregates do not meet the production requirements, they need to be crushed, pulverized and sieved until the refractory aggregates are produced. In the production process of refractory castables, it is necessary to pre-mix the refractory materials to prevent the refractory materials from being sufficiently mixed, which constitutes functional instability and affects construction and operation. When refractory castables are produced and packaged, it is required to use intermittent packaging of waterproof and moisture-proof packaging bags. The shelf life of refractory castables is generally about 6 months. The refractory castables are packaged separately from the separate agent requirements to prevent unnecessary damage.
The production process of refractory castables is simple, which constitutes a lot of manufacturers of refractory castables. The quality of refractory castables can only be proved after application or certificate of conformity. Therefore, when purchasing refractory castables, it must be formalized. The manufacturer of refractory castables has the strength to ensure the quality of refractory castables.